TEXAS EXPRESS (Scroll down for audio and videos)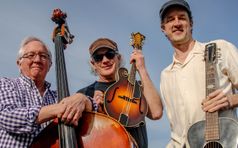 Alternating between Michael Shay's decidedly Texas-flavored originals and Spud Siegel and Annie Staninec's bluegrass, ragtime, and Western Swing offerings, the Texas Express duo, trio, quartet, or quintet (just add banjo!) features vocal harmonies galore and an exciting chemistry expressed through the band's eclectic repertoire.  Texas Express released a debut CD "Disfruteria!" in Ecuador in 2012 and from 2016-2020 was based out of the Pacific Northwest, featuring Michael Shay on guitar/vocals, Peter "Spud" Siegel on mandolin/vocals, Chris Kee on bass/vocals, and Annie Staninec on fiddle/vocals.  Past members have included Sam Guthridge, Patrick McAvinue, Ryan Hagler, Garrett Siegers, Geoff Union, Andy Sebastia, Phoebe Hunt, Brian Oberlin, Peter Schwimmer, and Ben Blechman. 

THE BAND:
Spud Siegel is a longtime fixture on the Portland and PNW music scene.  His participation in bands such as The Floating Glass Balls, The Columbians, Mary Flower's BBQ Boys, The Freak Mountain Ramblers, and The Jim Kweskin Jug Band, among many others, makes him a familiar face for hundreds of miles around, with or without his mandolin!
 Michael Shay blends the nuance of a classically-trained musician, the twang of a born-and-bred Texan, and a genre-bouncing career spent collaborating with musicians from around the world. His vision as a singer-songwriter exists comfortably outside any "Americana" box while still evoking his earliest influences: Townes Van Zandt, Neil Young, Dylan, and the Dead.   Like those of his longtime songwriting collaborator Jim Harris, Shay's songs are as likely to touch down in the bars and backroads of cow towns as in the graveyards and parlours of old Europe, dancing with the ghosts of William Blake, Hank Williams, or Sappho.
Bass player Chris Kee is a classically trained cellist who studied ethnomusicology at Yale.  He was a conscript of long standing in Peter Rowan's Free Mexican Air Force, performed and recorded with telecaster master Jim Campilongo,and was the original bass player with the Waybacks. Chris is also much in demand as a hired gun, recording and performing with Buddy Miller (including appearances with Buddy, Emmylou Harris, Patty Griffin and Shaw Colvin), Jim Lauderdale, Norah Jones, and many others.  
The Texas Express "quartet" features the virtuosic fiddle playing of Annie Staninec or Ben Blechman, two of Portland's finest. Annie Staninec has toured with David Grisman, Darol Anger's Republic of Strings, Town Mountain, The Kathy Kallick band, Mary Gauthier, and Rod Stewart.  https://anniestaninec.com/
 
THE ORIGIN STORY: 
After two cultural exchange tours funded by the United States Department of State and the US Embassy Quito brought them together in Ecuador in 2012, Texas Express was a finalist in 2013 for the "American Music Abroad" program, and an alternate band for the 2014-2015 program. They released an EP in June 2012, and the full-length CD "Disfruteria!" in March 2013, featuring both Shay's original tunes and Guthridge's traditional bluegrass repertoire.  After performances in Ecuador, New York, and Maryland in 2012, the band toured in Colorado, New Mexico, and Arizona in 2013, and presented the "country music camp" in Armenia, Colombia May 2014 in a cultural exchange program sponsored by the Colombian-American Bi-National Center of Armenia. After performing with Garret Siegers on banjo and Ryan Hagler on bass in Ecuador for a few more years, Shay moved to Portland, Oregon in 2016, where Texas Express was based until 2020.  
 
THE CD:
Click on these links to hear audio from the Texas Express 2012 CD "Disfruteria":
I've Endured - (Sam Guthridge lead vocal)
Portrait of a Heroine - (Michael Shay lead vocal)
Let Me Fall - (Sam Guthridge lead vocal)
I Truly Understand - (Michael Shay lead vocal)
The Birds do Sing - (Michael Shay lead vocal)


VIDEOS: